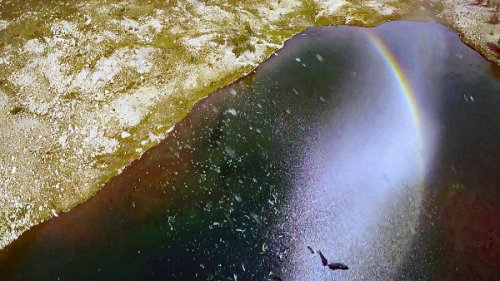 August 14, 2017, 2:49 pm
(ENTERPRISE, Ore.) — Thousands of juvenile trout were airlifted to the Wallowa Mountains last week by the Oregon Department of Fish and Wildlife to supplement the fish populations of lakes within the 361,000-acre Eagle Cap Wilderness in Northeast Oregon.
The Eagle Cap Wilderness has some of Oregon's most beautiful mountain lakes, including the state's highest lake, Legore Lake, perched above the Wallowa Valley at an altitude of 8,950 feet. More than 40 lakes in the Eagle Cap are above 7,000 feet.
"The extreme conditions involved in maintaining healthy fish populations in a landscape above 7,000 feet has its own challenges," said Jeff Yanke, ODFW district fish biologist in Enterprise, adding, "but anglers have consistently told us that fishing is one of the recreational experiences they expect when they go to the wilderness."
ODFW stocks Eagle Cap Wilderness lakes by helicopter every two years. The stocking program is paid for with federal Sportfish Restoration Program dollars, which is funded by a 10 percent excise tax on the sale of fishing equipment. In this way, ODFW seeds off-the-beaten-track lakes with rainbow trout that will hopefully grow to become the eight inchers that anglers can legally retain.
The challenges juvenile trout face in the high mountains are considerable. First there is the long fall from the aerial stocking device (ASD) or "shuttle" underneath the helicopter to the cold waters of the high lake. In some of those lakes, the rainbows may encounter eastern brook trout, which were stocked in the high lakes decades ago and are a voracious predator. Freezing cold water is another factor in the high lakes that can take a toll on fish.
One way to improve survival rates is to start with larger fish. Fish biologists have long known larger fish are better able to withstand the forces of nature than smaller fish. However, larger fish also take up more space, which means fewer of them will fit into the two-gallon containers on the helicopter shuttle that ODFW uses to transport fish to the high lakes.
This year ODFW's Enterprise office began testing three sizes of rainbow trout to see which one may fare better with the presence of brook trout in Oregon's highest lakes. The control group, raised to a target size of 2.5 inches, is similar to what ODFW has released into the high lakes in the past and most commonly used for aerial stocking in other locations. This year two larger sizes: 3- and 4-inch rainbows – were also tested to see if there is any improvement in survival rates as the result of using larger trout. This part of the study will be completed in three to four years.
"Our study was initiated to see if we could increase rainbow survival in our lakes enough by raising a larger fish to overcome predation and competition by naturally producing brook trout," said Kyle Bratcher, ODFW assistant district fish biologist in Enterprise.
One of the concerns was that larger fish might suffer more severe injuries when they hit the water after a 70-foot free fall because their bodies have more surface area to injure. Finding little or no documented evidence of this, the biologists simulated an air stocking event by dropping these different groups from varying heights into a small reservoir in advance.
Preliminary results indicate that all three size groups have high post-drop survival rates, according to Bratcher, who noted that samples were sent to ODFW's fish lab in La Grande where they will be assessed for bruising, injuries and other signs of trauma.
In addition, ODFW crews will sample survey the stocked lakes two years from now, with captured fish identified as to species, length, weight, and other criteria that will lead to estimates of population abundance, growth, and condition.
Source: Oregon Department of Fish and Wildlife