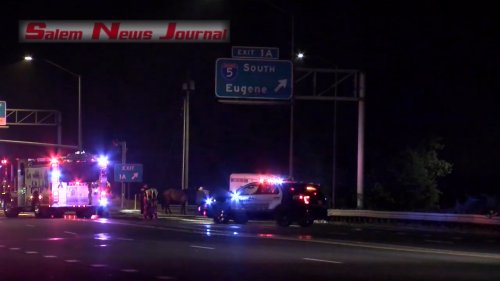 August 19, 2018, 4:05 pm
(SALEM, Ore) — Two people lost their lives early Sunday morning on Mission Street in Salem.
The two people, that have not yet been identified, were on a motorcycle turning left from the I-5 Southbound off ramp onto Eastbound Hwy 22 when Eduardo de la Lima Vargas age 39 of Hubbard, ran the red light and collided with the motorcycle.
La Lima Vargas was operating a pickup pulling a horse trailer occupied with one horse.
Police said that the collision threw both riders from the motorcycle and lodged it under the truck, causing both vehicles to catch fire.
They also said the riders were transported to Salem Health, but were pronounced deceased shortly after their arrival.
The vehicle fire was extinguished and the horse was safely removed from the trailer.
The Salem Police said their Traffic Team responded to the scene and took over the investigation.
Subsequently, they say, Vargas was arrested and lodged at the Marion County Detention Facility for the following charges: t
wo counts of Manslaughter, Reckless Endangering, Reckless Driving and one count of DUII.
Officials from the Polk County Search and Rescue assisted by taking possession of the horse until other arrangements could be made for its care.