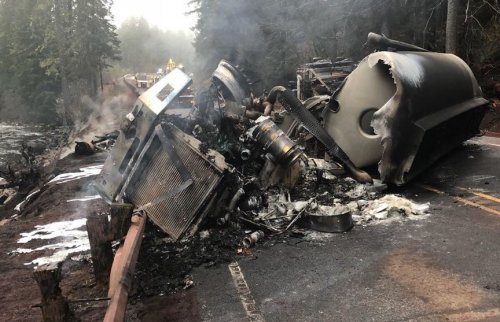 December 16, 2017, 4:56 pm
(IDANHA, Ore) — A Bend man lost his life late Friday night when the gasoline tanker he was driving lost traction on the icy road and rolled over coming to a stop blocking the highway said Oregon State Police.
The fuel tank ruptured and caught fire, spreading to nearby brush.
An Idanha-Detriot Fire Protection District fire engine was responding to the scene and also lost control and rolled onto its side on the icy road.
OSP says that there were additional collisions in the area that resulted in no injuries.
The driver of the fuel truck was identified as 58 year old, Ronald Edward Scurlock, from Bend.
He was pronounced deceased at the scene.
ODOT says that Oregon Hwy 22 in the Santiam Canyon will remain closed between milepost 55 at the east end of Idanha to the Santiam Junction.
U.S. 20 is an alternate route for travelers going between the Willamette Valley and Central Oregon.
OR 22 will remain closed indefinitely. It is estimated that almost 11,600 gallons of unleaded gasoline spilled.
ODOT is assessing the damage to the road and determining what repairs will be needed.