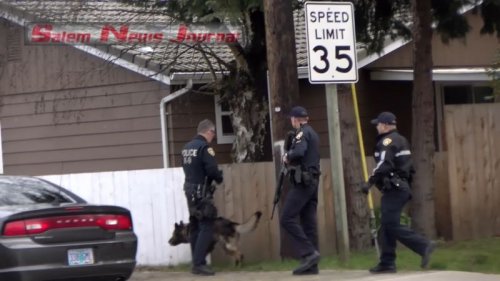 February 28, 2018, 10:45 am
(SALEM, Ore) — On Tuesday, February 27, 2018, at about 11:40 a.m., Albany Police responded to an armed robbery at Go Wireless, located at 1365 Clay Street SE, Albany, Oregon.
Police were notified that three male suspects entered the store with their faces concealed and two were reportedly armed with guns.
The suspects forced a female employee to open a safe and took several large bags of an undisclosed amount of property, then fled the scene in a vehicle.
Albany Police responded to the scene and at approximately 11:47 a.m., police were notified some of the stolen property was equipped with a GPS tracker.
The stolen property was tracked north on Interstate 5 to Salem.
Oregon State Police and Salem Police were notified of the incident and began to assist in locating the suspect vehicle.
The suspect vehicle, a gray Nissan Altima, stopped and was abandoned in the area near the 3800 block of NE Iberis, Salem.
Oregon State Police located a male subject, 33-year old Christopher Rodriguez,in the area of the suspect vehicle.
Rodriguez was transported to a Salem area hospital by Oregon State Police for a possible drug overdose.
Albany Police, Oregon State Police, Salem Police and Marion County Sheriff's personnel set up a perimeter in the surrounding area.
Two male subjects, 27-year old Vitaliy Derkach and 32-year old Yuriy Mishchuk, broke into an occupied residence within the perimeter and later fled that residence.
Derkach and Mishchuk were located by police and taken into custody. All three suspects are from the Sacramento, California area.