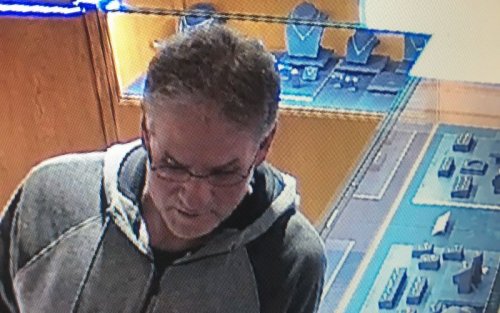 February 28, 2018, 9:52 pm
(SALEM, Ore) — A man robbed the Jackson's Jewelers in down town Salem back on February 6, and the Salem Police are asking for the public's help to identify the suspect.
The suspect is described as a white male adult, approximately 50-55 years old, 5'09" tall and 170 lbs with gray hair, gray stubble facial hair and dark colored wire framed glasses.
He entered the store at approximately 2:10 pm on that Tuesday, and engaged the clerk in conversation asking to see several rings.
Then, while the clerk was distracted, he took one of the rings and left the store.
The ring is a "Hearts of Fire" ring valued at approximately $12,000.00.
If you have any information about this man you are asked to contact Salem Police Detective Kevin Ramirez at 503-540-2358.