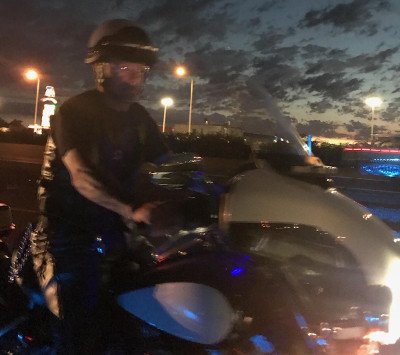 July 6, 2018, 1:08 pm
(SALEM, Ore) — UPDATE:
OSP says that on July 6, 2018 at approximately 7:30 PM. John OLSEN, age 54 from Portland, contacted the Oregon State Police and turned himself in. He was cited and released for criminal impersonation of a public servant and disorderly conduct. The Oregon State Police would like to thank the media and the public for their assistance.
The Oregon State Police Salem Area Command is asking the public for information on a male adult who is impersonating a police motor officer.
OSP says that on July 5, at about 9:45pm the pictured male stopped a vehicle on Interstate 5 near Ehlen Rd, exit #278 using flashing blue lights.
The male is described as an older male adult with a nose ring and tattoos on his arms.
He was wearing a black leather vest, black leather pants with a chain wallet, and what was described as a "weird" helmet.
The photographs show a black and white half helmet.
The male is riding what appears to be a black and white Harley-Davidson type motorcycle with a large front fairing.
Blue lights are visible on the motorcycle.
Anyone with information is asked to call the Oregon State Police Northern Command Center at 503-375-3555 and ask to leave a message for Trooper Elias Breen or email elias.breen@state.or.us .