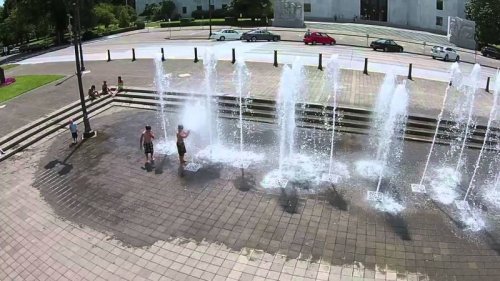 June 14, 2018, 1:30 pm
(SALEM, Ore) — The City of Salem said today that self-operating splash fountains will be open every day beginning Friday, June 15, 2018.
The splash fountains at Riverfront and River Road Parks are open two hours earlier than the splash fountains at the smaller neighborhood parks.
City of Salem self-operating splash fountain hours are listed below.
They will operate seven days a week.
Opening June 15, 2018:
10 a.m. – 8 p.m. Riverfront Park, 200 Water Street NE
10 a.m. – 8 p.m. River Road Park, 3045 River Road N
12 p.m. – 8 p.m. Fairmount Park, 650 Rural Street S
12 p.m. – 8 p.m. Northgate Park, 3575 Fairhaven Avenue NE
12 p.m. – 8 p.m. Wes Bennett Park, 2200 Baxter Road SE
12 p.m. – 8 p.m. West Salem Park, 265 Rosemont Avenue NW
12 p.m. – 8 p.m. Englewood Park, 1260 19th Street NE