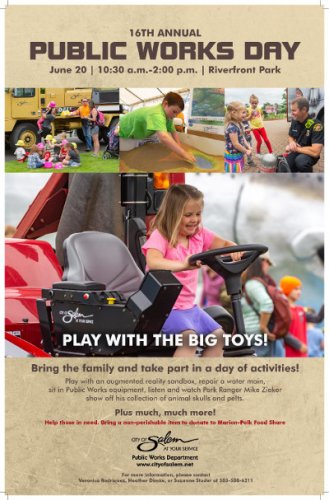 June 10, 2019, 5:14 pm
(SALEM, Ore.) —
The community is invited to join the City of Salem Public Works Department for the 16th Annual Public Works Day at Riverfront Park on Jun. 20, 2019 from 10:30 a.m. to 2:00 p.m.
Public Works services impact all Salem residents. Come learn what the Public Works Department and its employees do for you and the City of Salem.
Enjoy a multitude of family activities including exhibits from various divisions of Public Works:
Claudia the 29-foot Chinook Salmon;
"Be a Clean Stream Superhero" photo booth and free child-size hard hats;
Water pipe repair demonstrations; play with an augmented reality sandbox;
See and sit in Public Works equipment on display, such as backhoes, plows, and dump trucks;
Learn what City is doing to protect Salem's drinking water.
There is no charge for attending, but canned food or cash donations to Marion-Polk Food Share are encouraged.