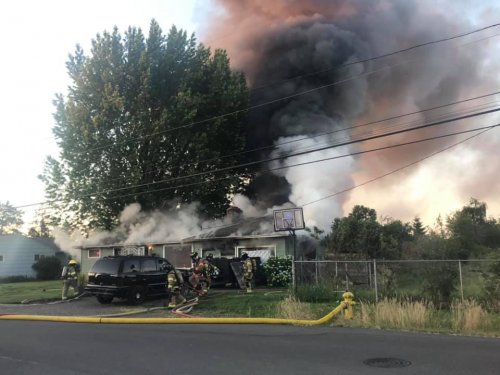 June 14, 2019, 10:11 am
(SALEM, Ore.) — Friday at approximately 5:15 am, Marion County Fire District responded to a house fire in the 4300 block of Munkers St SE, Salem.
When fire crews arrived on scene, they found the home to be fully involved.
An adult male was rescued from inside of the structure and transported to an area hospital by paramedics.
The male has been identified as Timothy Allen, a 45 year-old Salem man.
Mr. Allen died as a result of his injuries earlier this morning while undergoing treatment.
Investigators from the Marion County Sheriff's Office, Marion County Fire District #1, and the Oregon State Police are currently on scene investigating.
It is still early in the investigation, the cause of the fire has not yet been determined.
During the response to the fire, Marion County Fire District #1 was assisted by the Salem Fire Department, Turner Fire District, Keizer Fire Department, Aumsville Fire Department, and Faulk Ambulance.
Deputies are asking anyone who may have information about the fire to contact Deputy Chris Kennedy at 503-930-9464.
Source: Marion County Fire