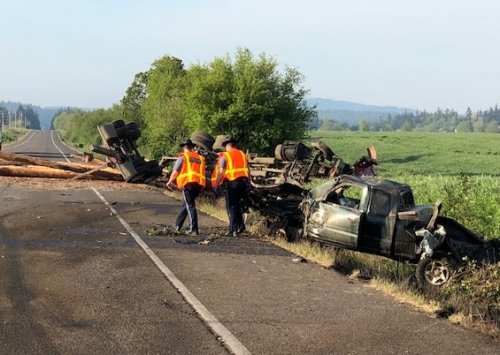 May 3, 2018, 12:32 pm
(MONMOUTH, Ore) — A crash on Hwy 99W south of Monmouth has taken one mans life, sent another to the hospital and closed the highway.
Oregon State Police said at 6:50am Oregon State Troopers and emergency personnel responded to the report of a two vehicle crash on Hwy 99 W just south of Monmouth.
The preliminary investigation revealed that a green 2002 Toyota pickup, operated by Taylor Boquist, age 23, of Cove Oregon, was traveling eastbound on Parker Rd.
Troopers told Salem News Journal that as the pickup pulled onto Hwy 99 W it was struck by a 2002 Kenworth log truck traveling southbound on Hwy 99W.
OSP says the operator of the log truck was pronounced deceased at the scene.
Investigators are with holding this drivers name pending next of kin notification.
Mr. Boquist was taken to an area hospital with serious injuries.
A detour is in place while police investigate.