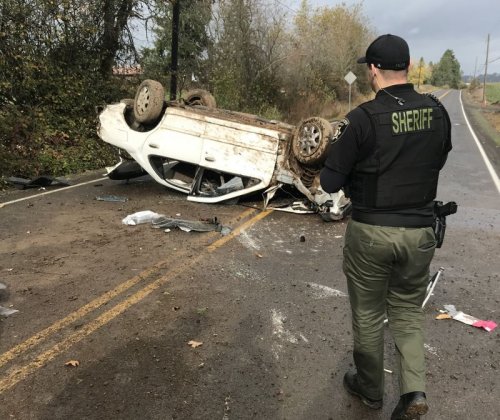 November 4, 2017, 9:16 pm
(McMINNVILLE, Ore) — Late Thursday morning, a Yamhill County Sheriff Deputy attempted to stop a white 1996 Nissan Altima for a traffic violation on N.E. Alpine Avenue in McMinnville.
The Yamhill County Sheriff's Office said the driver fled and attempted to elude the deputy, and a pursuit started eventually reaching speeds in excess of 70 mph.
Having concerns for public safety the deputy began to slow his pursuit and lost sight of the Nissan as it approached N.E. Baker Street.
The Sheriff's Deputy proceeded north on Westside Road, leaving the city limits, where the deputy found that the Nissan had crashed on Westside Road just south of its intersection with Poverty Bend Road.
The evidence at the scene was consistent with the Nissan leaving the road surface and hitting a dirt embankment, causing the vehicle to roll over.
The car came to rest in the middle of the roadway.
The male driver was trapped inside the vehicle and was eventually extricated by medical personnel.
He was later identified as 46 yr old Christopher Bogosian of Lafayette, who is on supervision for drug offenses and had been cited by law enforcement the day prior for driving while suspended.
Bogosian was transported by rescue units to the Willamette Valley Medical Center with serious injuries.
The Yamhill County Sheriff reported that the suspect is in stable condition.
The Sheriffs Department tells Salem News Journal that the incident is being investigated by the McMinnville Police Department with the assistance of the Oregon State Police.