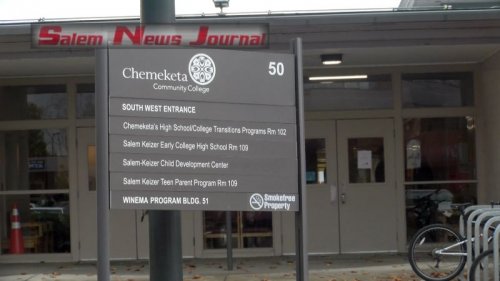 November 2, 2017, 12:21 pm
(SALEM, Ore) — The Early College High School (ECHS), located on the Chemeketa Community College campus was placed in lock down Thursday morning after someone sent a threatening email using a hacked or "swatted" email account.
Lt. Chris Baldridge told Salem News Journal that deputies are currently working with thier partners at Chemeketa Community College investigating a potential threat made via email.
Building 50 on the campus was placed in a brief lockdown while deputies determined the location of the person believed to have made the threat.
He also said after locating the person believed responsible off of campus, the school was advised to come off of lockdown.
At this time deputies are investigating this incident as a case of "Swatting".
Baldridge says that "Swatting" is the practice of sending spoofed messages to generate a response from law enforcement to an unknowing victim.
When deputies arrived on scene they spotted two individual's one of them matched a description that they had of a suspect, and when they attempted to contact him he ran from them.
After a short foot chase the male was located in a stairwell.
Later the deputies determined that he had nothing to do with the "swatting" incident.
In our video you will hear the female from that encounter tell her story.
At this point deputies do not believe there is any current threat to the school and are investigating any potential leads as to who sent the email.