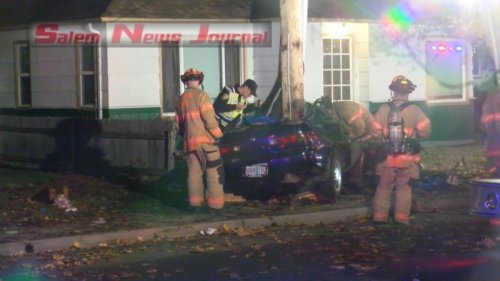 November 5, 2018, 2:38 pm
(SALEM, Ore) — Early this morning two people in what was reported to be a stolen car crashed at high speeds on Park Avenue in Salem.
The Dark colored two door was spotted by Salem Police traveling at freeway speeds South bound on Park Avenue from Silverton Rd.
While the officer attempted to catch up with the vehicle it made its way South of Market St when the driver lost control and wrapped the car around a power pole.
After the impact both of the occupants were trapped and had to be extricated by Salem Fire.
Both patients were transported by ambulance to the hospital with unknown injuries.
Neighbors say that speeding is a big problem on Park Avenue and they would like to see some regular traffic patrols started by police to help reduce the problem speeding on their street.