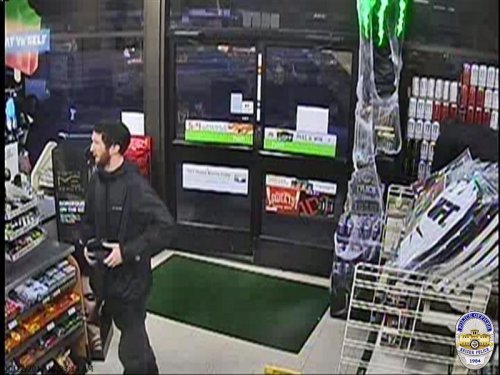 October 24, 2017, 6:37 pm
(KEIZER, Ore) — The Keizer Police Department is investigating a series of at least three residential burglaries and other crimes that occurred on October 22, 2017 that we believe may have been committed by the same suspect. Dep. Cheif Jeffery Kuhns said "We are releasing surveillance photographs of the suspect and are asking for the public's help in identifying the suspect."

Kuhns tells Salem News Journal that on Sunday, 10-22-17, at about 6:20 a.m. officers from the Keizer Police Department responded to the 6200 block of 11th Avenue NE on a report of a theft from a motor vehicle that was occurring at that time. The resident at this location awoke to find the suspect inside his truck that was parked in front of his residence. The resident confronted the suspect and a physical altercation between the resident and suspect ensued when the resident attempted to detain the suspect for the crimes he believed had been committed. Both the resident and suspect received non-life threatening injuries during the physical altercation. The suspect was able to flee the area on foot and was not located or apprehended by responding officers. Further investigation of this incident found the suspect entered the dwelling at this location and committed the crime of first degree burglary.

At about 7:00 a.m. while officers were investigating the crimes that occurred on 11th Avenue NE they learned about another residential burglary that occurred in the 1200 block of Harmony Drive NE. This residence is approximately two blocks south of the 6200 block of 11th Avenue NE. "Investigating officers believe the suspect who committed the crimes on 11th Avenue NE is the same suspect who committed the crimes on Harmony Drive NE" said Kuhns.

In addition to the crimes described above, at about 5:00 a.m. that same morning officers responded to a residence located in the 5800 block of Kate Lane NE to investigate another residential burglary that occurred in the same general geographical area. Kate Lane NE is a short residential street that is located about one block northeast of the 1200 block of Harmony Drive NE and two blocks south of the 6200 block of 11th Avenue NE. Investigating officers learned a suspect had entered the garage at this residence and had rummaged through two vehicles that were parked inside the garage.

Officers investigating these incidents learned later on the afternoon of October 22nd that the suspect who is alleged to have committed these crimes entered the 7-Eleven convenience store located at 5550 River Road North at 7:35 a.m. that morning. The suspect is described as a white male adult, with dark hair and a dark beard.

Anyone having information is asked to send an email to Tips@keizer.org or contact Detective Andrew Phelps at 503-390-3713 Ext. 3497.