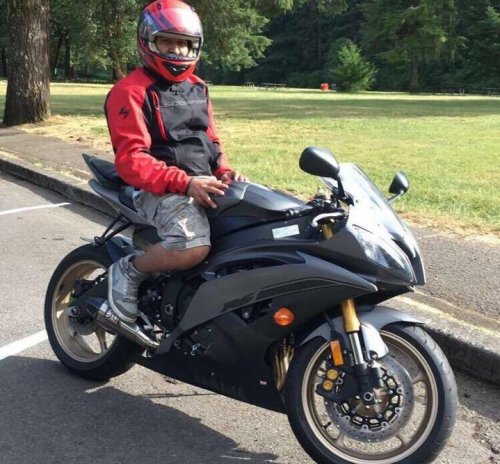 October 9, 2017, 6:01 pm
(SALEM, Ore) — Today, around 12:30 p.m., a Marion County man met with a potential buyer of his motorcycle near the Ankeny Wildlife Refuge after posting it for sale on multiple social media platforms said Marion County Sheriff.
The suspect posing as a legitimate buyer attempted to punch the victim and then pointed a small handgun at him, taking his wallet, jacket, helmet, cell phone and motorcycle.
The robber is described as a white, male, adult who stood between 6 foot and 6 foot 3 inches and weighed between 240 to 250 pounds.
The victim said the man was balding with buzz cut blonde hair.
The thief was last seen wearing a red and black riding jacket, red and black helmet, as seen here, black tee shirt, blue jeans and dark cowboy boots.
The suspect arrived in a newer, black, Jeep Cherokee with temporary stickers in the window, how ever the victim was unable to describe the driver of the Jeep.
The motorcycle is a gray, 2014, Yamaha R6 with Oregon license M722871.
The Sheriff's Office would like to take this opportunity to remind our residents that when meeting with potential buyers from posted adds, it is always best to meet in a very public location like your local Sheriff's Office.
MCSO is asking anyone with information regarding today's incident to please call 503 588 5032 or you can text your tips to TipMCSO at 847411.
If you see the motorcycle please do not approach it and call 911.