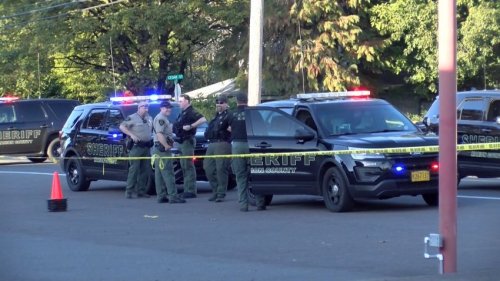 October 16, 2017, 11:34 am
(TURNER, Ore) — UPDATE#2: Today, Clayton Stanfill, age 53, of Turner, was arraigned by a Marion County grand jury for murder related to the October 15th shooting death of Judy Stanfill, age 52, in their Turner home.
UPDATE: Deputies have identified the victim in last night's shooting as Judy Stanfill, age 52, of Turner.
Ms. Stanfill lived at her residence in the 5000 block of Ash Street with her husband Clayton Stanfill, age 53.
Mr. Stanfill is currently at the Salem Hospital where he is expected to recover from a gunshot wound Said Lt. Baldridge.
He also said that Detectives are still working to determine exactly what happened yesterday afternoon in the Stanfill home,
but they do not believe anyone else was involved in the incident and there is no immediate danger to the public.

The Sheriff's Office and the Turner Police Department would like to extend their thoughts to the Stanfill family and her co-workers at the Marion County Circuit Court. Ms. Stanfill's autopsy is scheduled for tomorrow morning.
Anyone with information is asked to call the Sheriff's Office anonymous tip line at 503 540 8079.
A man walked into the Turner Fire Department with a gunshot wound Sunday.
Turner Fire personnel began treating the man and called the Sheriff's Office for assistance said Marion County Sheriff.
When deputies arrived they searched the man's residence and located a female deceased inside.
Lt Baldridge, MCSO, told Salem News Journal that this is an active investigation and the Sheriff's Office is not prepared to release any further details at this time.
The Sheriff's Office is being assisted by the; Turner Police Department, Stayton Police Department, Keizer Police Department, Aumsville Police Department,
Marion County Medical Examiner's Office and the Marion County District Attorney's Office.