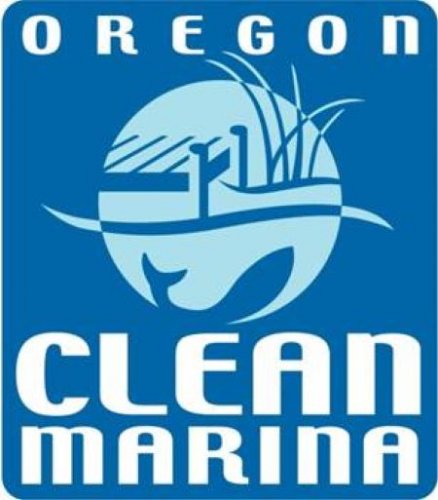 August 20, 2015, 11:11 am
(SALEM, Ore) — Oregon's Clean Marina Program has grown to a flotilla of 63, but that's just a scratch on the surface of the nearly 200 marinas that qualify for the Marine Board's free program. The goal of the program is to incorporate as many floating homes, moorages, boat yards, yacht clubs and marinas as possible, and have them certified as "clean." The Clean Marina designation ensures our waterways are clean for recreation and lets boaters know that facilities are doing their part to be stewards of our waters. No one wants to play in litter-filled, oil sheened, debris laden water, let alone store their boats in it.
The program has been around for over a decade, so the Marine Board is taking the program to the next level where facilities can show how they go "above and beyond" the standard best management practices by demonstrating gold star "Leadership Activities," that include enhancing upland areas by removing invasive plants and planting native species; mentoring a nearby facility toward Clean Marina Certification; participating in an Adopt-A-River event; or tracking an environmental aspect (such as electricity usage, safe electrical system monitoring, water usage, or solid waste generation/volume) and setting goals for facility improvement.
Three facilities were recently re-certified and expressed interest in achieving the gold star level in the future:
Big Eddy Marina – First certified in August 2008, located on the Columbia River (19609 NE Marine Drive). The facility has 85 boat slips and 65 floating home slips. Big Eddy Marina scored a 94% on their re-certification. The facility is very clean and well-maintained. Some highlights of their practices: No fertilizer or pesticides used on their landscaping; a parking lot made of pervious material to allow water infiltration into the ground (which minimizes runoff from the parking lot directly into nearby water); use of bilge socks in the storm drain catch basins to remove any oily water from entering the ground or waterways; and a fish cleaning station and pet waste baggies provided to their customers. In addition to their standard program checklist items, the facility also does routine testing of their electrical wiring to ensure there are no leaks, corrosion, or other dangerous issues. Electrical safety is an area that may become part of future Clean Marina checklists to ensure facilities are safe, so the Big Eddy Marina is setting a new standard for all facilities.
Columbia Ridge Marina – First certified in April 2007, located on the Columbia River (18525 NE Marine Drive). The facility has 50 floating home slips. Columbia Ridge Marina scored 100% on their re-certification visit. This facility and its tenants are great stewards of the environment, taking their status as a Clean Marina very seriously. In addition to adhering to the requirement of the Clean Marina program, Columbia Ridge encourages its residents to use non-toxic cleaners for house upkeep so nothing harmful enters the waterway. The upland areas are landscaped with native and edible plants and the parking lot design includes a bios wale drainage area that's designed to remove silt and pollution from surface runoff water. In addition, all of the old creosote timber was removed from the facility and replaced with docks made from recycled plastic, and the lighting system in the parking lot, and around the docks, are being replaced with energy-efficient LED lighting
Oregon Yacht Club – First certified in May 2009, located on the Willamette River (6901 SE Oaks Park Way). The facility has 38 floating homes in its community. The residents of this community are also very dedicated to being good stewards of their river environment and have implemented many best practices to improve water quality beyond the Clean Marina Program requirements. Some highlights include: a well maintained upland area for garbage, recycling, and composting waste; routine monitoring and maintenance of the docks and floating homes to check for any issues, leaks, or litter; a "Going Green" guide suggesting environmentally-friendly products and actions that residents can use in their homes, gardens, and decks; oil spill response and emergency training for all residents twice a year; and installation of individual water meters for every floating home that has resulted in reducing their water usage -by half. The Oregon Yacht Club also conducted an extensive watershed re-vegetation effort, removing invasive plants from their upland areas and a habitat maintenance plan for the ecosystem in cooperation with the City of Portland who continues to monitor and preserve this area. This facility is a model that many other floating homes could benefit from.
When a facility earns the Clean Marina designation, they receive a special flag and logo to signify to boaters that the marina cares about water quality by doing their part to keep it clean. The voluntary program works to protect and improve local water quality by promoting the use of environmental practices on how to eliminate or reduce the input of polluting materials – such as oil, paint, cleaning chemicals, sewage, fish waste, and trash – into the environment. Clean Marina facilities receive free pollution prevention materials (such as a dockside oil spill response kit) and free training and technical assistance to improve their environmental performance. Each year, a Clean Marina does a self-evaluation to ensure best management practices are being implemented. Every three years the Marine Board re-certifies a Clean Marina to ensure the facility still meets the standards.
Source: OSMB