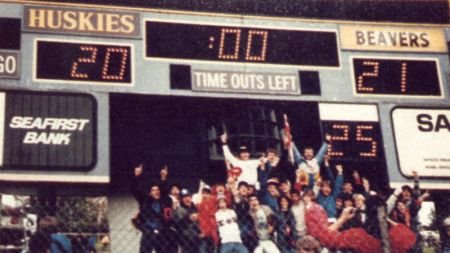 September 10, 2014, 5:31 am
(CORVALLIS, Ore. ) — On the weekend of Sept. 19-20 Oregon State Athletics officials are hosting former football student-athletes who played for head coach Dave Kragthorpe, 1985-90.
Coach Kragthorpe and his family will also be in attendance when the Beavers host the San Diego State Aztecs at Reser Stadium.
Kragthorpe was the 1989 Pac-10 Conference Coach of the Year. He had nine of his players drafted by NFL teams, four were Pac-10 First Team honorees and Esera Tuaolo was selected the 1989 Morris Trophy recipient as the league's top defensive lineman.
Oregon State sports historian and Oregon Stater (alumni magazine) sports editor Kip Carlson looks back at what was an exciting era of Beaver football and one that set the stage for future success a decade later.
More yards. More points. More wins.
That's what Dave Kragthorpe and his "Air Express" offense brought Oregon State football from 1985-90.
During Kragthorpe's six seasons as the Beavers' head coach, OSU had its most successful and entertaining seasons since the early 1970s; his pass-happy teams were the first real step in re-establishing a winning program. Kragthorpe and many of his Oregon State players will be attending the Sept. 20 game vs. San Diego State as part of a reunion weekend.
The contributions of Kragthorpe's teams were far more than their 17-48-2 record might lead one to believe. Keep in mind, Oregon State had averaged just 1.7 wins per season over the 13 years before Kragthorpe arrived.
OSU's four-win seasons in 1988 (4-6-1) and 1989 (4-7-1) were the first time since 1971 that the Beavers had more than three wins, and the 1988 squad was a handful of plays from a winning record. Oregon State also posted some notable upsets, rewrote large swaths of the school recordbook, and inspired administrators and boosters to begin improving Parker (now Reser) Stadium.
Kragthorpe was hired December 28, 1984; after many seasons of coaching he had spent the past two years as athletic director at Utah State, his alma mater. Kragthorpe missed coaching, though, and opted for the sideline at Oregon State over the desk at USU.
Prior to his administrative stint, Kragthorpe had engineered one of the remarkable turnarounds in college football history, taking Idaho State from a 16-game losing streak prior to his arrival to a winning record his first season and a national championship his second (1981).
Much of Kragthorpe's coaching acumen came from his previous stop. He spent 10 seasons (1970-79) at Brigham Young, helping head coach Lavell Edwards develop a highly successful controlled passing offense while serving as offensive line coach, offensive coordinator and assistant head coach.
Kragthorpe installed the same pass-oriented offense at Oregon State, and the results were immediate. The Beavers opened the 1985 season beating Idaho 43-28 in Corvallis and California 23-20 in Portland; in the first game, OSU had to overcome an early 16-0 deficit and in the second the Beavers drove for Jim Nielsen's winning field goal in the final minutes. It was the first time Oregon State had started a season 2-0 since 1967.
Freshman quarterback Erik Wilhelm quickly proved adept at executing the offense, but he was injured in a loss at Grambling in the fourth game of the season. The Beavers struggled, getting shut out the next two weeks by Southern California and Washington State.
Next up was a trip to Washington, and the haughty Husky faithful – plus the Seattle media – expected a rout. Instead, they got perhaps the biggest win of Kragthorpe's time at Oregon State and one of the biggest upsets in college football history.
OSU was a 37-point underdog. One Seattle newspaper columnist wrote that the Beavers "are not only an embarrassment to themselves and their fans … they are an embarrassment to the Pacfic-10 Conference." Other print and broadcast previews were in the same derogatory vein.
On a rainy afternoon, Rich Gonzales – who had replaced Wilhelm at quarterback – completed 26 of 42 passes for 298 yards and a touchdown, but the Beavers still trailed 20-14 late in the fourth quarter. OSU forced Washington to punt from its own end zone; Andre Todd blocked the kick and Lavance Northington fell on it for a touchdown. Nielsen's point-after kick put OSU in front with 1:49 left, and the Beavers hung on for a 21-20 win that silenced Seattle.
"I've been involved in some big wins at Idaho State and Brigham Young that preserved winning and championship seasons, but I don't think I've ever been involved in a bigger win," Kragthorpe told reporters after the game.
In the next day's Seattle Times, columnist Blaine Newnham opined: "There is no question that Seattle's media underestimated Kragthorpe and the determination of the young men playing for their pride. The Huskies have dodged bullets since UCLA and they honestly deserved to lose this game. They could have lost to Oregon and Cal. If they had to lose, however, they picked the right spot. It was a day when pride was more important than bowl games, when money and tradition didn't matter. We should all learn from it."
Another highly memorable moment of Kragthorpe's OSU years came at the conclusion of the 1988 season. The Beavers had seen potential wins against Colorado, Arizona State and Stanford slip into two losses and a tie to end the chance of a winning season, but the Civil War offered a chance to ease – if not erase – the sting. The Beavers were on a 13-game winless streak in the series, but that ended in a 21-10 OSU victory before a drenched sellout crowd of 40,597.
Oregon State trailed 10-7 going into the final quarter, but Pat Chaffey scored on touchdown runs of 2 and 17 yards; the last came with 1:30 left to put the game away and set OSU fans' sights on a postgame goalpost demolition.
Ironically, Wilhelm – by now holder of almost every OSU game, season and career passing record – threw only 15 passes, completing six, and didn't throw a touchdown pass.
"If you had asked me before the game if that could happen, I'd have questioned it," Kragthorpe said afterward, adding, "This was the biggest game of my coaching career."
There were other highlights during those years that gave Oregon State fans hope that things were getting better.
In 1986, OSU visited Kragthorpe's former school, BYU, and knocked off the Cougars 10-7. "Our goal," OSU cornerback Teddy Johnson said, "was to win one for the head man." Earlier that season, the Beavers had visited third-ranked Michigan and lost 31-12, but were within 14-12 at halftime; Wilhelm finished that game with 39 completions in 64 attempts for 339 yards.
In 1989, OSU met UCLA in a nationally televised game; a two-point conversion pass from Matt Booher to Reggie Pitchford gave the Beavers an 18-17 win over one of the West Coast's marquee programs.
A year later, the Beavers took on 21st-ranked Arizona in Corvallis and beat them 35-21 by outrushing the Wildcats 186-166. Earlier that season, the Beavers led eighth-ranked Nebraska 7-3 at halftime before falling 31-7.
Kragthorpe's tenure also saw the biggest improvements to Parker Stadium since a 1967 expansion. The first real step came in 1987 when approximately 750 chair-style "VIP" seats were installed near midfield in the west grandstand. Also that summer, to give the Beavers a place to practice indoors during inclement weather, artificial turf was installed in McAlexander Fieldhouse. In 1988, plans were approved to eventually cover the west grandstand; by 1990, the Valley Football Center had been constructed beyond the north end zone, housing OSU's locker room, a training room and a stadium club.
Kragthorpe and his former players can remember when the improvement began, and take pride in their part in it.
Source: Oregon State Athletics