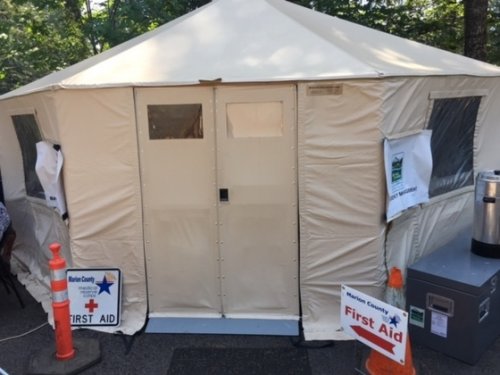 August 20, 2017, 2:27 pm
(SALEM, Ore.) — A mobile health care clinic located in the North Santiam Canyon is open for services to visitors and community members seeking non-emergency medical care. The medical clinic was established as part of eclipse planning to ensure convenient easily accessible medical care. The mobile health care clinic is open from 7 a.m. to 9 p.m. through Tuesday at the Detroit Ranger Station located at 44125 North Santiam Hwy., Detroit, OR. The medical clinic entrance is on the north side of Hwy. 22, across from Detroit Lake State Recreation Area.
The mobile health care clinic was established in cooperation with Oregon Health Authority, Santiam Hospital, Marion County Emergency Management and the Marion County Medical Reserve Corps. The station is staffed with physicians, nurses and mental health professionals. Services are provided first come, first serve and are free of charge.
Anyone experiencing a medical emergency should contact 9-1-1.
"Initial crowds have been lighter than expected and we are pleased to offer medical triage, non-emergency care and referrals to community members while we have trained medical staff available in the area," said Marion County Emergency Manager Ed Flick. "This is a wonderful example of the collaboration between public and private organizations and provides the opportunity for medical professionals to practice planning, setting up and staffing medical services in a non-office setting."
Source: Marion County Oregon