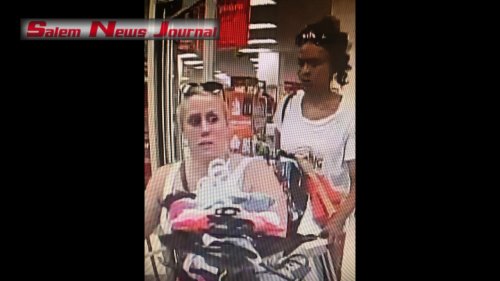 July 29, 2019, 9:29 pm
(SALEM, Ore) — A 61-year-old man is in critical condition today after being struck by a car that was being driven by a fleeing shoplifter.
Saturday evening about 8:40 two female shoplifters were making their getaway after allegedly stealing items from the T.J. Max store, in downtown Salem, when the car they were driving struck a man on his bicycle leaving him for dead.
The man, 61-year-old Montana Carver, is a local man down on his luck and living on downtown streets.
Montana is described as a gentle, peaceful and caring man, always ready to offer a helping hand to others in need.
Mr. Carver suffered life-threatening injuries as a result of the collision.
He is in a local hospital fighting for his life in critical but stable condition.
The Salem Police are asking for the public's help with identifying the two women involved in the incident.
The first woman is described as a light-skinned adult black female with dark hair, approximately 6 ft. tall, with a medium build and having a deep voice.
The second woman is described as a white female adult, approximately 5 foot 1" to 5 foot 3" and a heavier build, possibly 160 to 180 lbs, with blond hair.
If you have any information about either of these two individuals please call the Salem Police tip line at 503-588-8477.