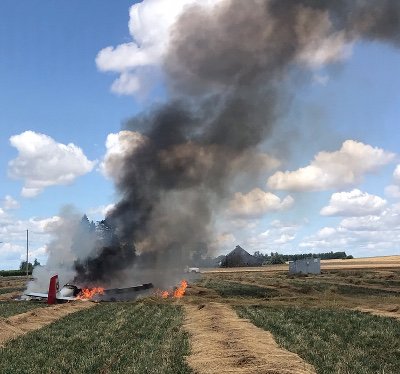 July 16, 2019, 7:58 pm
(SHAW, Ore.) — This afternoon at about 1:20 pm emergency personnel were dispatched to a single engine plane crash.
The plain came down in a cut grass field along Howell Prairie Road near Jordan Street.
When Marion County deputies arrived, the plane was fully engulfed in flames.
The pilot told deputies while flying from Albany to the Aurora Airport he experienced mechanical issues which led to the plane catching fire mid-flight.
Thinking quickly he made an emergency landing in the farm field.
The pilot, Eugene Mitchell, 73 years old, from Portland, was able to walk away from the crash with non-life threatening injuries
Mr. Mitchell is a military veteran, with flying experience dating back to Vietnam.
He was taken to a local hospital for his injuries where he was treated and released.