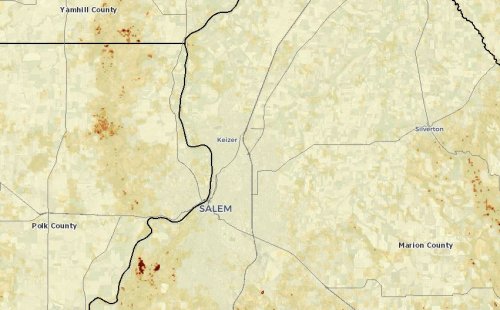 June 21, 2019, 1:51 pm
(SALEM, Ore.) — The Oregon Department of Forestry shared its web-based Oregon Wildfire Risk Explorer tool to the Public Utilities Commission this week in an effort to reduce the number of wildfires started by power lines.
ODF was joined at the PUC workshop by Pacific Gas and Electric (PG&E) and Pacific Power to introduce measures utility companies are taking to prevent ignitions or provide quick response when fires occur.
With last year's Camp Fire caused by a power line – taking 86 lives and devastating the town of Paradise, Calif. – this workshop served as a starting point for addressing this issue in Oregon. ODF reports an average of 47 fires are caused by power lines each year on lands protected by the agency.
While most of these fires are caught at 10 acres or less, the remote location of power lines can sometimes lead to large fire growth due to lack of access. The 2018 Ramsey Canyon Fire, which started August 9 from a downed power line in Jackson County, burned nearly 2,000 acres and cost $6.6 million to put out.
ODF is encouraged that the PUC and utility companies are taking an active role in protecting lives, communities and natural resources from the dangers of wildfire.
"Preventing fires started by power lines is a tough nut to crack," says ODF Fire Prevention Coordinator Tom Fields. "Correcting human behavior such as putting out a campfire is much different than preventing fires started by equipment or infrastructure.
Monitoring thousands of miles of energized power lines is a monumental task, especially because many of these lines are in remote locations.
We applaud these utilities for their efforts in mitigation and preventative procedures during times of elevated fire danger."
Oregon Wildfire Risk Explorer is an online tool for homeowners, community leaders and professional planners to create natural hazard mitigation plans based on fire risk for a given area.
The program takes into consideration fire history, vegetation, topography, weather, and even infrastructure. Utility companies will be able to match power line corridors with areas of fire risk to develop mitigation and response plans.
Both PG&E and Pacific Power are taking steps to reduce vegetation in and around power lines and poles, increase the number of facility inspections, and invest in improving equipment resiliency and fire proofing.
The utilities are also establishing a new fire prevention measure called a Public Safety Power Shutoff.
Proactively shutting off power during extreme and dangerous weather conditions is a step toward keeping people and communities in high-risk areas safe. This measure is intnded as a last resort to help ensure customer and community safety.
Oregon Wildfire Risk Explorer
Source: Oregon Dept. of Forestry