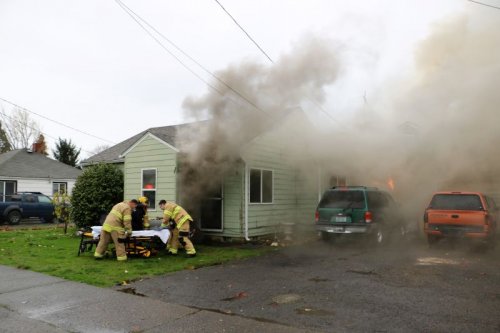 November 28, 2017, 6:29 pm
(LEBANON, Ore) — A house fire which started in a converted garage, and spread to the main home sent one woman to a local hospital with life-threatening injuries.
The Lebanon Fire department told Salem News Journal that firefighters were called to the home at 451 W. Maple Street at 2:01 p.m. on Tuesday afternoon.
They said the first arriving unit was a Battalion Chief who arrived at 2:04 p.m. and reported fire and smoke from the garage and one apparent victim down in the yard.
A Lebanon Fire District medic unit arrived just 2 minutes later and immediately administered advanced life support to the female victim, identified as Cynthia Poole, 56, of Lebanon.
Fire officials said Poole was transported from the scene to Good Samaritan Regional Medical Center in Corvallis, where she was stabilized before being transported via helicopter to the Oregon Burn Center at Legacy Emanuel Hospital in Portland.
Firefighters were able to knock down the fire in about 20 minutes, and remained on scene for approximately 4 hours mopping up hot spots.
The cause of the fire remains undetermined at this time and members of the LFD Fire Investigation Team have begun to process the scene and will continue their investigation through Wednesday in an effort to determine the fire's cause and origin says Lebanon Fire.
Video Courtesy of Lebanon Fire Dept.