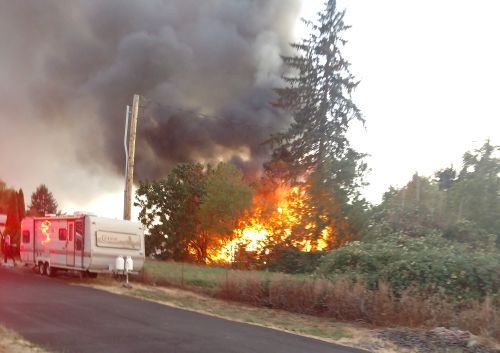 September 11, 2017, 10:33 am
(Aumsville, Ore) — Following a long Saturday night assisting Stayton Fire with a 3rd-alarm wildland fire on Fir Grove Lane SE, the Volunteers Fire Fighters of Aumsville Fire District responded to two multiple-alarm fires on Sunday.
The first fire, at 8654 Mill Creek Rd. SE, was dispatched at 11:19 in the morning.
Firefighters arrived on a fully-involved barn with flames spreading to the surrounding pastures and called for second and third alarm assignments.
Firefighters from Turner, Stayton and Marion County Fire District #1 arrived to assist. The fire operations lasted about 3 hours.
The cause of the fire was the use of a propane weed burner to burn weeds in the residents lawn.
The occupant suffered minor burns to his hands from fighting the fire but was not transported to the hospital.
One or more chickens perished in the blaze. The barn was a total loss. See our video report on this incident.
The second fire was at 10252 Leverman Rd. SE on the East end of Aumsville. The call came in about 7:30 Sunday evening.
When Firefighters arrived they reported heavy fire that quickly spread from the original shed to a single-wide mobile home and a bus converted to a camper that was parked alongside.
Showers of embers from the burning buildings spread quickly to surrounding trees and brush, and caused additional spot fires along Mill Creek Road.
This fire went quickly to second, third and eventually to a fourth alarm, bringing in Aumsville, Sublimity, Stayton, Marion County FD#1, Silverton, Jefferson and Scio fire departments.
Chief Roy Hari of Aumsville Fire told Salem News Journal that the cause of the fire is under investigation but it appears to be electrical in nature.
There were no injuries, however all the structures were a total loss.