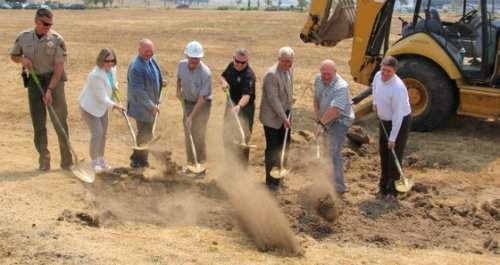 September 21, 2017, 12:16 pm
(SALEM, Ore) — On Monday, August 7, Marion County broke ground on a new public safety building to house the Sheriff's Office Parole & Probation and Enforcement divisions. The 30,909 sq. ft. facility will provide for improved interoperability and needed additional space. The new building is expected to open summer 2018.
Sheriff Jason Myers said, "We're privileged to witness the construction of a safe, seismically-sound building for our law enforcement first responders and our parole and probation professionals. This building will provide for strong future growth of our agency, collaboration amongst our public safety teams and will serve as an excellent facility to provide programs and services for our community."
The new building provides work areas for staff and clients that are safe, professional and functional. Safety and security of employees is enhanced with controlled entry points, adequate hallways and secondary exits. Common work and support areas are arranged centrally to maximize efficiency. Sustainable lighting and material selection has been chosen to minimize impact on natural resources.
The project team includes owner's representative Day CPM, Carlson Veit Architects and Emerick Construction as the construction manager and general contractor.
The Public Safety Building is the second in a series of capital projects planned by Marion County. Commissioner Sam Brentano, board chair, said, "We rely on our dedicated public safety staff to provide essential services throughout the county. I'm pleased that the county has been able to take advantage of low cost financing to improve the county's infrastructure for the next generation."
Sourced: Board of Commissioners