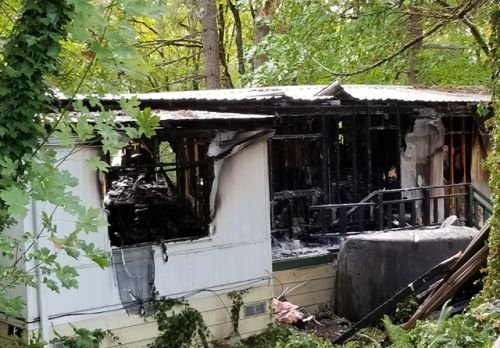 September 21, 2017, 5:01 pm
(SILVERTON, Ore) — A Silverton resident has his dog to thank for his life after a house fire Thursday morning.
Silverton Fire Officials tell Salem News Journal that the first arriving unit found fire coming from the doors and windows catching nearby trees on fire in the 4300 block of Silver Falls Hwy.
A second alarm was called bringing in additional units from Silverton as well as units from Mt Angel and Drakes Crossing Fire Districts.
Due to the location of the home, water tanker trucks were used to bring water to the scene.
The fire was brought under control after about 45 minutes.
The cause of the fire is still under investigation however it appears accidental in nature.
The occupant was alerted to the fire by his dog as no working smoke alarms were inside the home.
The home and its contents were a total loss and there was no insurance on any of it.
Silverton Fire District would like to remind you to check your smoke alarms every six months.