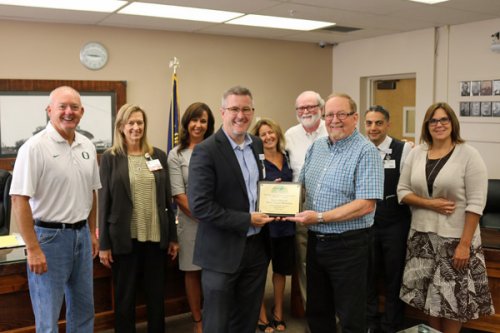 August 28, 2017, 8:01 pm
(DALLAS, Ore.) — West Valley Hospital was recognized by the Polk County board of commissioners as an Outstanding Community Partner in a ceremony at the Polk County Courthouse on Aug. 16. This award, the first of its kind in Polk County, recognizes the invaluable support that the hospital has offered the community over the past several years, some of which continues to have an impact.
"I couldn't be more proud," said Polk County board of commissioners chair Craig Pope. "The growth of the hospital has been right on par with what our community needs, and the partnership projects with Polk County keep developing over time."
One such project is Central Health and Wellness Center, Polk County's first and only school-based health center. It opened adjacent to Central High School in 2015 and serves the entire surrounding community, with Central School District students as its priority. The hospital partners with Polk County and Capitol Dental Care to provide medical, dental and behavioral health care services at the center. The center also provides community benefits such as improved access to quality primary and preventative health services and reduced missed work hours by parents.
"We're happy that we have a partner like Polk County that is as concerned with the health of our community as the hospital is," said Bruce Rodgers, West Valley Hospital chief administrative officer. "The work that Polk County and Family & Community Outreach Department do is inspiring and we're pleased to offer support however we can."
Another project partnership is the Polk County donation center, born out of a coffee conversation between Rodgers and Polk County Family & Community Outreach Department director Brent DeMoe. This particular partnership addresses the storage issue the county's Service Integration Teams were having for all the community partners' donations of furniture and other household items for its families in need. That's when Rodgers recognized the need for a centralized donation center and took action. West Valley Hospital had a largely empty building across SE Uglow Ave. from its main campus. DeMoe and Rodgers collaborated on a plan to offer some of that space to the SITs to create a donation center for folks to donate and store those items.
"Our partnerships with the hospital are instrumental towards meeting our goals that all people are empowered and healthy," says DeMoe. "We're extremely grateful that the hospital is willing to partner with us to improve the health and vitality of the citizens of Polk County."
West Valley Hospital is the Dallas campus of Salem Health, which offers exceptional care to people in and around Oregon's Mid-Willamette Valley. Salem Health comprises hospitals in Salem and Dallas, a medical group of primary and specialty care providers, plus other affiliated services. Visit us at www.salemhealth.org; "Like" us on www.facebook.com/salemhealth; follow us on Twitter: @salemhealth; and view us at www.youtube.com/salemhealth.