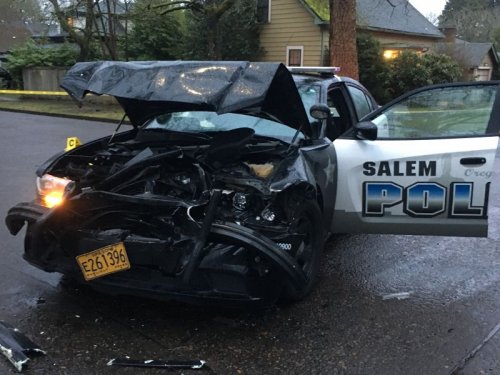 January 29, 2018, 1:29 pm
(SALEM, Ore) — Four Salem Police Officers were involved in a on duty shooting following a dangerous incident in which a motorhome struck two police patrol vehicles Saturday, said Salem police.
The incident began at about 12:54 pm when a motorist reported a very large motorhome being operated in a dangerous and erratic manner on Highway 22 near Lancaster Dr in Salem.
The complainant reported the driver of the motorhome was driving at dangerous speeds and cutting off other traffic.
Responding officers located the motorhome a short time later on Kansas St NE.
Then the motorhome struck the front of one Corporals patrol vehicle with such force that the airbags on the vehicle deployed, the suspect then fled the scene.
A second Corporal soon located the motorhome on D St NE, where the suspect drove the motorhome in reverse and struck that Corporals vehicle and again fled.
A Salem P.D. spokesman told Salem News Journal that officers were able to deploy spike strips, eventually flattening some of the motorhome's tires, and causing it to come to a stop on Hawthorne Ave just South of Market St.
Police say the driver, identified as 61-yeard Roy Victor Devoursney of Salem, exited the vehicle and refused to comply with officers' commands, resulting in officers deploying a taser before taking him into custody.
Sergeant James Welsh, Corporal Andrew Connolly, Corporal Mark Seyfried and Officer Pence Hodges all fired at the suspect during the incident.
These officers will be placed on administrative leave while the incident is being investigated, said Salem police.
The suspect was not shot during the incident, but was transported to Salem Health for other injuries sustained during the incident.
Corporal Connolly and Corporal Seyfried were also injured when the motorhome struck their patrol vehicles.
They were transported to Salem Health for treatment and released.